Sponsored by UPSTATE MEDICAL UNIVERSITY Office of Continuing Medical Education
and the International Society of Aquatic Medicine (ISAM)
A SYMPOSIUM ON DIVING MEDICINE
The daily lectures will address pathology seen in dive injuries and dive related deaths,
the physical exam to identify risk factors, environmental hazards faced by divers,
medications that may increase risk of injury, common travel-related illnesses
and the interventions to moderate risks.
Daily Lectures 7-10AM (Sunday – Thursday) 4-7PM (Friday)
Daily Laboratory Session: 10AM -5PM (Sunday – Thursday)
St Lucia, West Indies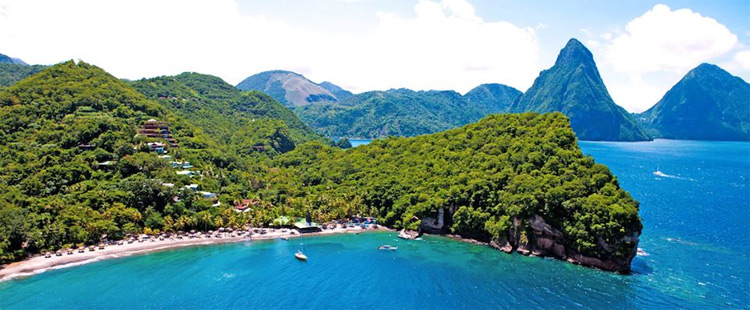 Target Audience: Physician, Clinicians, RNs, PAs, and allied health professionals. Learning Objectives: Following this activity, participants should be able to:
1. Recognize certain medical conditions and medications that may have adverse risk on scuba diving.
2. Identify CV risk factors for scuba related injuries and measure the level of fitness necessary for safe diving.
3. Identify potentially toxic reef life during their dives and will render proper first aid for anyone who suffers an injury from same.
4. Choose from a list: eco-friendly sunscreen agents that can be used safely in the reef water environment.
5. Identify three strategies that they can incorporate into their practice to reduce stress and burnout and increase resillency.
Keynote Speaker: Paul MartinChief Medical OfficerCrescent Health Solutions Asheville, NC
Adjunct Speakers:
Dr. James Fulcher, Dr. Alan Thomas, Dr. Janet Staples-Edwards, Dr. Ann- Marie Padilla, Dr. Robert Arusell, Dr . Paul Neis, Bridget Thomas, RN, MSN
Faculty Disclosure: Drs. Martin, Fulcher, Thomas, Staples-Edwards, Neis, Arusell , Neis and Mrs. Thomas have no financial relationships with commercial interests.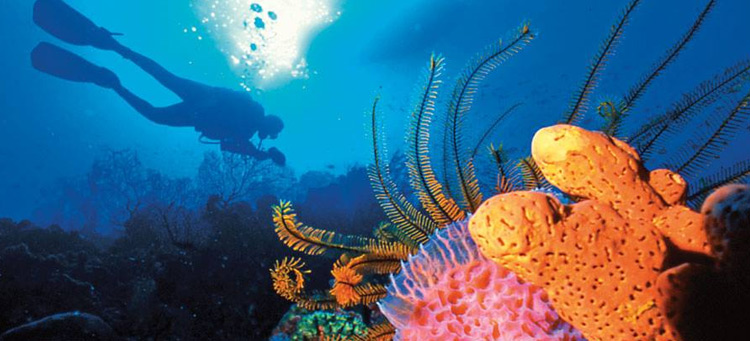 Planner Disclosure: Drs. Martin, Fulcher, Thomas, Staples-Edwards, Padilla, Arusell , Neis and Mrs. Thomas have no financial relationships with commercial interests.
Accreditation: This activity has been planned and implemented in accordance with the accreditation requirements and policies of the Accreditation Council for Continuing Medical Education (ACCME) through the joint providership of SUNY Upstate Medical University and the International Society of Aquatic Medicine. SUNY Upstate Medical University is accredited by the ACCME to provide Continuing medical education for physicians.
Credit Designation: UPSTATE Medical University designates this live activity for a maximum of 26 AMA PRA Category 1 Credits TM. Physicians should claim only the credit commensurate with the extent of their participating in the activity. Disclosure Policy: To ensure balance, independence, objectivity and scientific rigor in all certified CME activity UPSTATE Medical University requires that all planners, faculty and individuals in a position to control the content of an educational activity disclose all relevant financial relationships with any commercial interest that might be perceived as a real or apparent conflict of interest. Detailed disclosures will be made in writing prior to speaker presentations. Americans with Disabilities Act: In accordance with the Americans with Disabilities Act, UPSTATE Medical University seeks to make this conference accessible to all. If you have a disability, which might require special accommodations, please contact Mrs. Thomas at 910 -452- 1452.
Commercial Support: No commercial support was received for this educational activity. Paul Martin, MD is our featured keynote speaker. Dr. Martin is board certified in Family Medicine and Addiction Medicine. Dr. Martin is the Chief Medical Officer of Crescent Health Solutions, the Medical Director of Neil Dobbins Detoxification and Crisis Center, Medical Director of Health Services for the City of Asheville, NC and Chairman of Mission Health System Pharmacy and Therapeutics Committee. He graduated from University of Arizona School of Medicine and is a leading specialist in Addiction Medicine. Dr. Martin is an Associate Clinical Professor with the University of North Carolina at Chapel Hill and is a national speaker on Addiction Medicine. He maintains an active medical practice in Asheville, NC and has been in practice for 35 years. Dr. Martin is current President of the NC Society of Addiction Medicine He also serves as an advisory physician for Diver's Alert Network and is an avid scuba diver.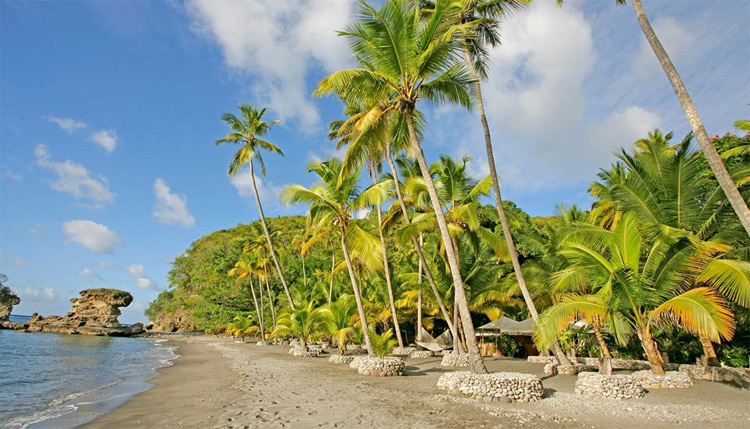 41st Annual Spring Meeting Anse Chastanet & Scuba St Lucia
The 2016 Annual Spring Meeting will find us at Anse Chastanet in St. Lucia, West Indies. St Lucia is said to be the most verdant and scenically spectacular of all the West Indies.
In this wild green land, there are mysterious jungles, steamy volcanoes, secret waterfalls, thick palm forests, and most dramatic of all, two spectacular half mile high peaks- the Pitons-that rise vertically out of the Caribbean Sea. There are many reasons to stay at Anse Chastanet; the most compelling
is that it gives you the opportunity to be a part of this beauty.
Tranquility, Romance, Adventure: ANSE CHASTANET is one of the Caribbean's most panoramic resort hideaways. Nestled amidst a 600-acre estate with two soft sand beaches bordering pristine coral reefs, ANSE CHASTANET offers excellent diving facilities and soft adventure activities that include yoga, snorkeling, tennis, sunset sailing, sea kayaking, jungle biking, and hiking and bird watching among the ruins of an 18th century colonial plantation. A complimentary shuttle service from beachside to hillside level is provided any time it is requested. Travel and Leisure Magazine rate Anse Chastanet as one of the Top 2 Resorts in the Caribbean.
Location, location, location!
This is the fundamental attraction ANSE CHASTANET  resort has for traveling divers.
It is in the heart of St. Lucia's very best diving: the entire region surrounding ANSE CHASTANET is vested into an award winning marine reserve (SMMA) which has been established since 1995 to protect the pristine beauty of St. Lucia's coral reefs. Anse Chastanet is on the lee side of St Lucia so divers will enjoy consistently favorable diving conditions. The bay is virtually flat and calm, and there is excellent snorkeling and diving within 50 feet of the shoreline.
The Anse Chastanet reef starts just 10 yards beyond the water's edge. The reef's remarkable ecosystem offers an amazing profusion of unusual tropical marine life, in 20 to 140 feet of calm, clear water. Anse Chastanet Reef, which is home to more than 150 different species of fish, makes for an amazing dive day or night. This reef is a favorite of most professional underwater photographers and videographers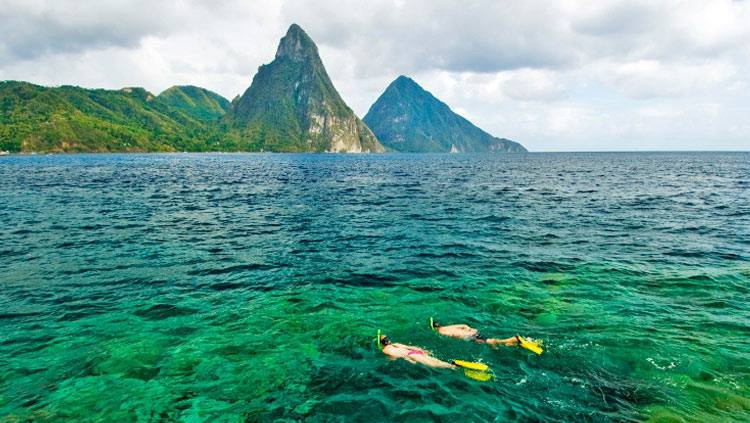 who visit Anse Chastanet.
The boat dives should also not be missed – dramatic walls beneath the majestic Piton Mountains, Superman's flight, a drift dive in the shadow of the Petit Piton, Coral Gardens and Jalousie under the Gros Piton, Piton Wall, the wreck of the "Lesleen M", Anse La Raye and Anse Cochon. Closer to home for the afternoon boat trips but no less spectacular sites, the diver can explore Fairyland, Turtle Reef, Grand Caille, Trou Diable, the Pinnacles and much more…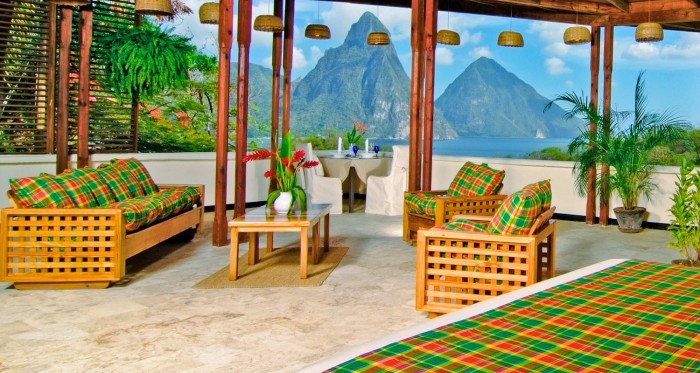 This unique resort plus extraordinary diving make this a fabulous choice for the ISAM
Spring Meeting. We hope you will join us!
Costs: Per person / double occupancy (No airfare included in this price. All prices subject to change).
Superior Room
Diver . . . . . . . . . . . . . . . . . . . . . . . . . . . . . . . . . . . . . . . . . . . . . . . . . . . . . . . . . . . . . . . .$2999.00
Non Diver . . . . . . . . . . . . . . . . . . . . . . . . . . . . . . . . . . . . . . . . . . . . . . . . . . . . . . . . . . . .$2599.00
Single supplement . . . . . . . . . . . . . . . . . . . . . . . . . . . . . . . . . . . . . . . . . . . . . . . . . . . . $595.00
Yearly ISAM Dues to be current . . . . . . . . . . . . . . . . . . . . . . . . . . . . . . . . . . . . . . . . . . $100.00

Upgrades Available:
Beachside Deluxe . . . . . . . . . . . . . . . . . . . . . . $350 per person based on double occupancy
Hillside Deluxe . . . . . . . . . . . . . . . . . . . . . . $575.00 per person based on double occupancy
Hillside Premium . . . . . . . . . . . . . . . . . . . . $975.00 per person based on double occupancy
Single occupancy rooms will have to pay double the upgrade cost for single supplements to upgrades.
Group Package Includes:
7 nights superior accommodations
Welcome cocktail and manager's rum punch party
Breakfast, lunch, afternoon tea, and dinner daily
15 boat dives
2 night Dives
Nitrox
All taxes and service
Dive tips
Round trip airport transfers in St Lucia
Mini-sailing, windsurfing, snorkeling, use of tennis
ourt and tennis equipment
Guided tour of Old French Colonial
Basket of local fruit|
Use of beach chairs and beach towels
26 hours category 1 CME
Required Equipment:
C cards
Certification Class:
At Scuba St Lucia's dedicated dive center, beginners can earn open water certification
Responsibility:
ISAM, Traveler's Choice, Anse Chastanet, and Scuba St. Lucia assume no responsibility or Liability as to the safety, quality of conditions, nor for the act of any employee or agent of any establishment, firm, person or entity furnishing such services, transportation, equipment, substations or unperformed services, nor assume any responsibility or liability for the safety of any participating individuals while engaged in underwater activities. All trip participants will be required to sign an ISAM / Traveler's Choice liability waiver.