DOMINICA
Fort Young Hotel / Dive Dominica
30th Annual Spring Meeting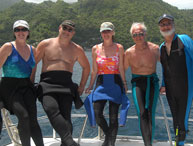 Fort Young Hotel and Dive Dominica played host to ISAM's 2005 Annual Spring
Meeting. Fort Young is Dominca's premier hotel and an incredible property
sitting on the edge of a cliff overlooking the Caribbean Sea. ISAM members savored
the views and enjoyed the charm of this historic old fort converted into the
luxury hotel we found at our May meeting.
The diving was conducted by Dive Dominica and did not disappoint ISAM divers.
The reefs of Dominica held surprised for even the most seasoned divers.
Frogfish, seahorses, flying gurnards, octopus, and snake eels were almost daily
encounters. Many divers were treated to the spring mating rituals of slipper
lobsters.
The scientific sessions were conducted by Dr. Ann Barker-Griffith of SUNY
Upstate Medical University and featured Joel Silverstein as our keynote speaker.
Joel is one of the leading specialists in diver training, exploration and
decompression analysis.
Join us next year as we head to Costa Rica and the beautiful Ocotal Beach
Resort!