Komodo Dancer/Peter Huges Diving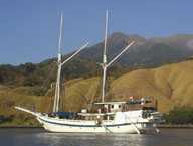 The lure of the unexplored proved irresistible for ISAM divers who traveled to Bali, a real life "Jurassic Park" above and below the surface so the seas. The area is known as one of the last frontiers of the underwatwer wolrd with the most prolific and diverse marine ecosystem on earth.
Oue group saw plenty of volcanic action as we explored the numerous sea mounts in the area, with vast schools of jacks, pelagics, mantas, the occasional whale shark, and other stunning members of the blue water community.
The gusting currents that surged through the deep channels between Komodo and Rinca islands produced a wild variety of conditions: great visibility, drift dives, massive cliffs of black basalt, endless sheer walls, and dazzing coral gardens.
Between the sea mounts were vast unexplored coral reefs, often in shallow water perfect for liveaboard divers, that teemed with un usual tropical reef fish. ISAM divers were treated more than 1.100 different species of fish ( the Caribbean around 700, by comparison) and the beautiful Anse Chastanet Resort!