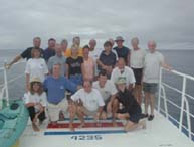 After an overnight journey of 375 miles in the Pacic Ocean, 21 divers arrived at one of the most coveted dive destinations in the world: Cocos Island , Costa Rica. A week later they returned to civilization with memories of swimming with hundreds of hammeerhead sharks, photographing graceful mantas, and splashing in waterfalls on one of the world's largest uninhabited islands.
The 120-foot Okeanos Aggressor, wich hosted a Dateline NBC crew filming a " Thrill Seeker " program, offered a 10 – day adventure originating in Puntarenas, a small fishing village on the western coast of Costa Rica. After an overnight stay in San Jose, Costa Rica, Aggrssor guest boarded a charter bus for a scenic, two-hour bus ride throuh Costa Rica's beatiful countryside before arriving at the Okeanos Aggressor por for the 36- hour jouney to Cocos.
Throughout the week of diving, travelers encountered a spectacular array of marine life large and small – most quite large ! Many divers described the Cocos as " high-voltage " or " on-the-edge "- an accurate description of the drift dives at Alcyone and Big Dos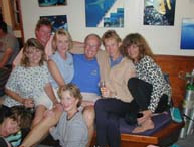 Amigos. A few hundred hammerheads. thousands of horse-eye-jacks, and a rays. eels, white tip sharks, and silky sharks. A hiking tour of the island revealed a lush uninhabited island covered with verdant jungles and contless waterfalls.
Many divers enjoyed a brief land trip though Costa Rica prior to boarding the Aggressor in Puntarenas.
Traveling to Arenal for white water rafting and hiking was particularly exciting !