Bridget's Review
ISAM 31st Annual Spring Meeting

The International Society of Aquatic Medicine celebrated our 31st Annual
Spring Meeting at Ocotal Beach Resort in Guanacaste Costa Rica. Rolando Arburola , owner of Costa Rica Dive as his crew, provides an experience that is unparalleled in the world, for our group of 60 adventurous souls. We received legendary service from Costa Rica Dive ! Rolando is excellent at taking care of all aspects of details and ISAM was the recipient of his expert service during our stay in his country of Costa Rica
The ISAM guests were a group of physicians and family that were attending a medical seminar sponsored by SUNY and ISAM for 30 hours of category 1 CME credits accredited by the AMA ( www.divingdocs.org ). Ocotal Beach Resort and Costa Rica Dive proved to be excellent partners in hosting the annual May meeting. The luxurious hillside resort allowed guests to relax and enjoy the marvels of the Pacific Ocean at Costa Rica's premier diving resort. Rolando of Costa Rica Dive did an outstanding job of providing all services within the country for the ISAM group. The diving in Costa Rica was top notch and exhilarating with pacific big animal action and sightings of wonderful macro subjects. The group spent one week diving these rich waters that provide a spectacular setting for some of the world's best diving. Few places in the world have such varied and plentiful marine life.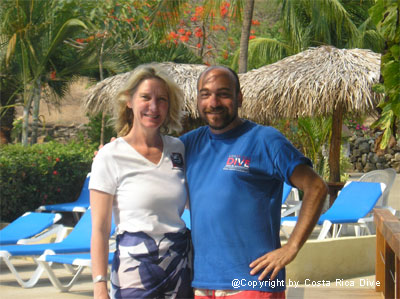 After a week of diving, the group traveled to Arenal for some more excitement. This was found in the zip lines and river rafting expeditions that Rolando had planned for the group. The natural beauty of the land is well known and we were not disappointed. Everyone loved the zip line experience and wanted to have another zip ride in the trees with a view of the volcano. It is a very unique and incredible experience of literally flying through the rain forest with a magnificent view of the volcano during your ride. It really rates up there as one of the most fun things I have ever done in my life. The river rafting was adventurous, challenging and fun while allowing us to enjoy the natural beauty of Costa Rica from the river. The rafting was more physically demanding than the zip line and all ISAM guests were excellent rafters and enjoyed the thrill and excitement of the river ride.
Diving, zipping in an active volcano Arenal, and rafting are 3 top activities that attract visitors to Costa Rica and we did them all with style under the planning and guidance of Rolando's who has been in business since 1980. We had a very successful meeting in Costa Rica for ISAM and this would never have been possible without Rolando being in Costa Rica to help with all the details of this annual spring seminar. A hats off to Rolando for his professionalism and excellent service ISAM looks forward to returning to Costa Rica for another ISAM meeting.