El Presidente/Scuba Du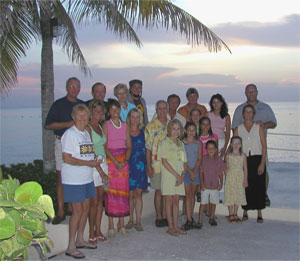 The 12th Annual Family Conference took us to Cozumel, where the diving is quite different then anywhere else in the world in tht all you need is to get underwater ana fly. The current that runs along 3000-foot drop sweeps along the walls and the feathers off onto more shallow areas and pushes you along at a swift yet comfortable pace.
Jorge Treviño, the owner of Scuba Du, one of the island's most respected diving operations, managed the diving activities. Private boats were at our service all week for beautiful drift dives along Cozumel reefs.
Dive guides were always ready to lend a helping hand and identify marine life we had seen.
Our host hotel was the secluded luxury hotel El Presidente. This luxury resort set at the southern end of the island was trudly paradise. Tall palm trees shaded the grounds while large open-air lobbies, walkways, restaurants, and bars sorrounded this beachfront resort.
Hats off to Joel Silverstein, this year's keynote speaker, for providing quility CME. Joel is a specialist in technical diving, decompression management, and hyperbaric operations.
The trip to Cozumel was a great success with the best part being the interaction of the ISAM menbers. The meeting of new peolpe and the reuniting of old friends has set ISAM apart as much more than a medical meeting.
See you in CAyman Brac in 2005!