M/V Aggressor Fleet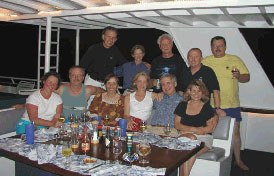 The first ISAM conference of 2003 took us to Truk, one of the Federal Sataes of Micronesia. Located 650 miles southeast of Guam and 750 miles north of Papua New Guinea, Truk Lagoon was ours to explore aboard the M/V Aggressor, a 107-foot dive yacht that provide cruising and diving in unparalleled luxury.
ISAM divers aboard the Truk Aggressor explored the wrecks of Truk Lagoon and the unexplored reffs and passes af Truk and Kuop Atolls. The Wold War II wrecks Japanese artifacts, brilliant soft corals, colorful anemones, and the array of Pacific Marine life. While diving the outer reefs, we saw several different species of sharks along with many other Pacific reef creatures. Night divers in Truk were also quite spectacular.
Visibility averaged 60 to 100 feet around the wrecks and usually exceeded 100 feet on the outer reef and walls.
ISAM travelers who made the journey to Truk all found it to be a great start to 2003. Join us in St Maarten of the first ISAM conference of 2004!