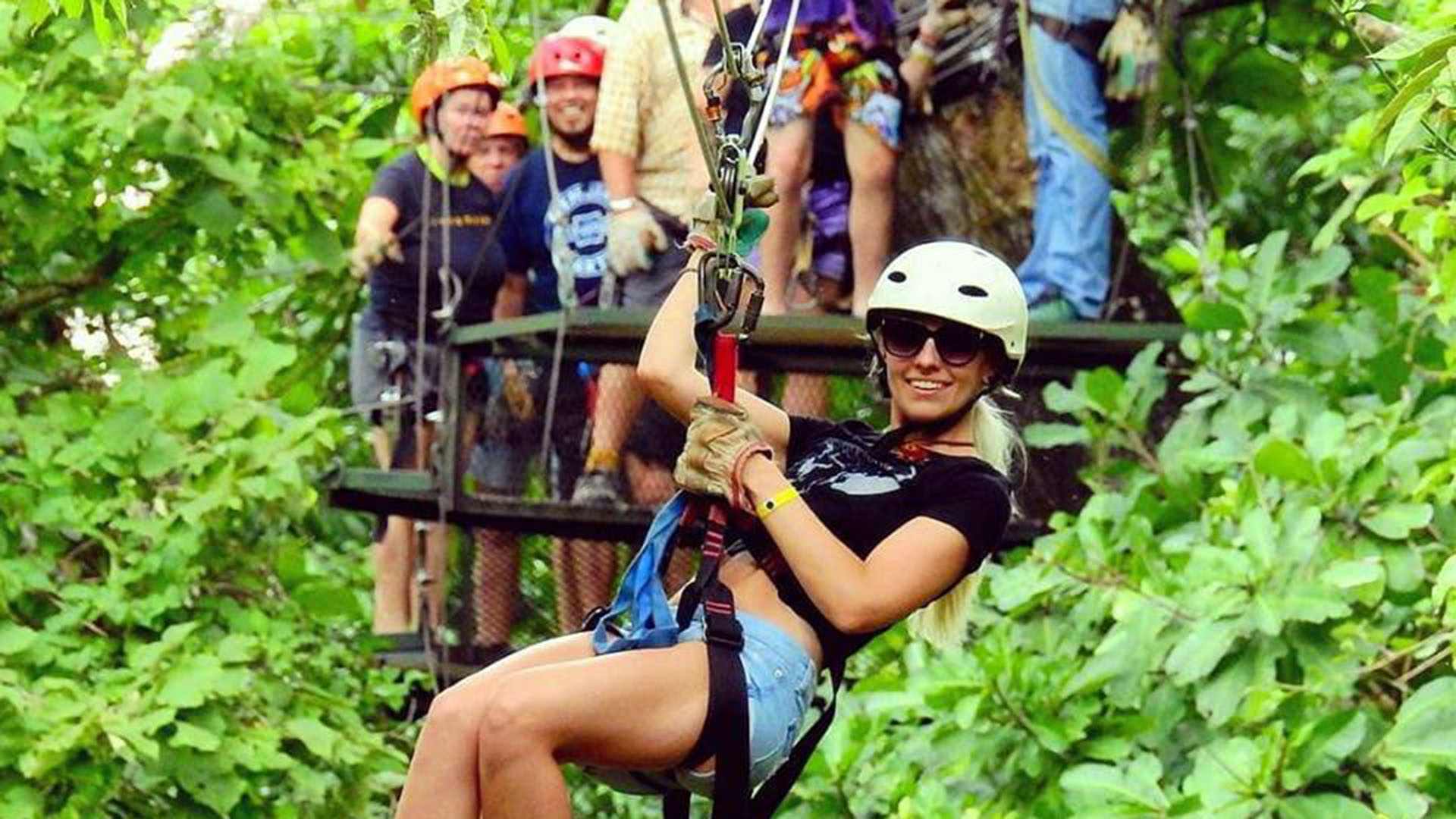 This tour will leave you smiling from ear to ear.  This is great fun and will get your adrenaline pumping as you enjoy the beauty of the forest and look for wildlife. This easy, yet exhilarating and exciting experience has you zipping through the tree tops. If you're lucky, the Howler Monkeys will come out and see you zip by at some point during the tour. Guides will accompany young children in tandem, and if necessary go with an adult who needs hand-holding. Age and weight are generally not a factor.
NOTE: DO NOT TAKE ANYTHING ON THE ZIP-LINE TOUR THAT YOU ARE NOT WILLING TO LOSE
What to Expect
After you arrive, experienced canyoning guides will help outfit you in the gear you will need and give you a safety briefing, showing you how to position your hands and gloves and how to brake when needed.
Within 15 minutes after gearing up, you will be zipping from tree top to treetop across the cables between the 11 platforms. Safety lines secure you to the platforms along the way. Guides do a lot to ensure that guest have maximum enjoyment – especially on the longer, lower height lines that prepare you for the later, higher platforms.  By the time you get to the last platform you will feel like a pro.
At the end of the day, visit the gift shop and purchase souvenirs, an ice cream bar or an ice-cold soda or beer.
Duration:  4 hours including transportation to and from activity
Schedule: Departs Daily with a minimum of 2 persons
LEVEL – EASY:  Minimum Age 5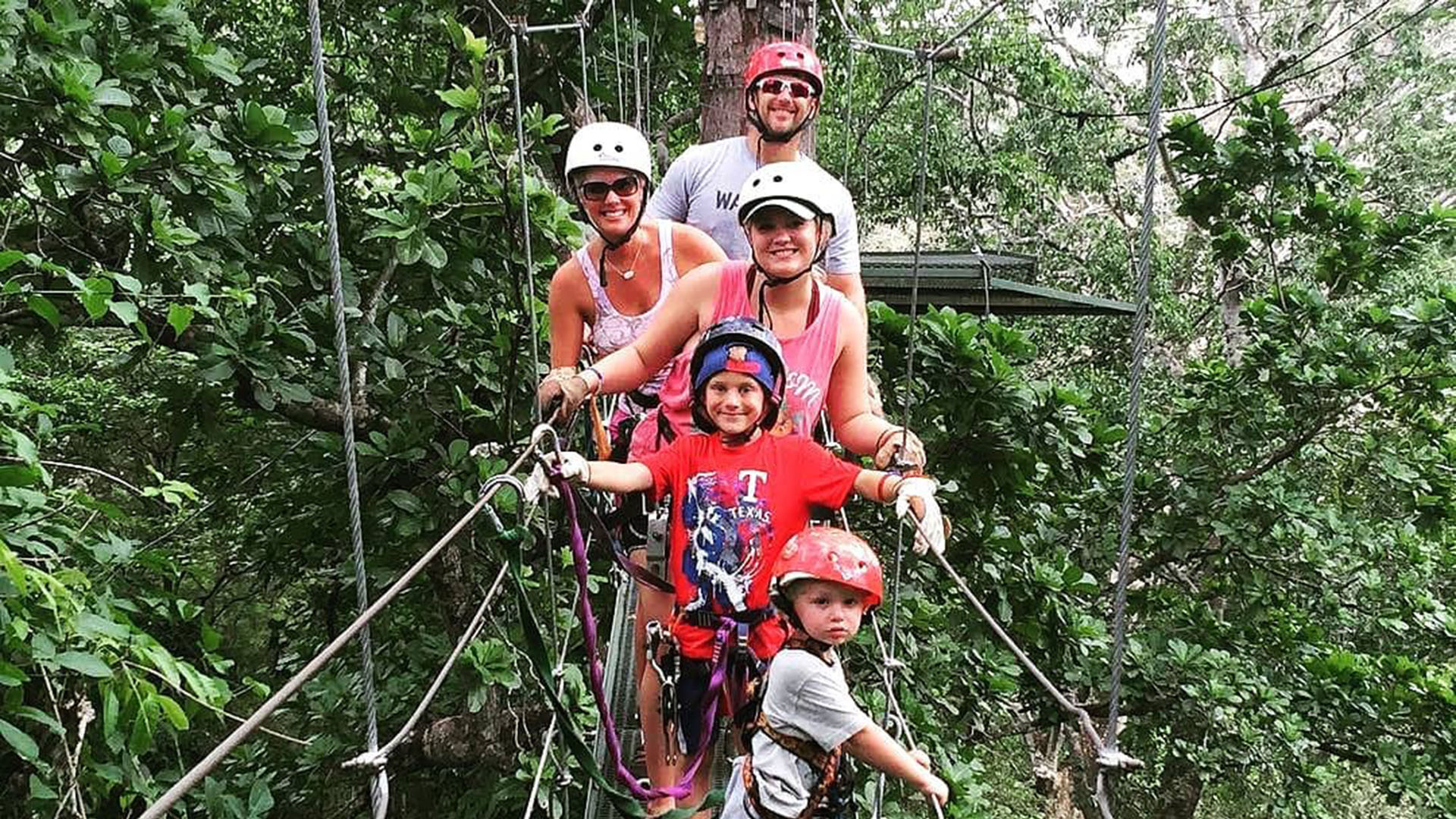 Includes
Transportation to and from selected Guanacaste Hotels
NOTE: Some locations may have additional pick up fees.
May stop at multiple hotels before or after your pickup and drop-off times
Zip Line Tour
Rain Ponchos are provided if needed
Experienced Bilingual Canopy Tour Guide
What to bring
Adventure sandals, tennis shoes, or other shoes that will stay on your feet
– NO FLIP-FLOPS ALLOWED
Sunscreen
Repellent
Camera or Video – MUST HAVE LANYARD TO ATTACH TO GEAR
NOTE: You are responsible for loss or damage that may result to your camera gear
Cash to tip guides or purchase items in gift shop
Spirit of adventure, sense of humor and a smile
Traveling with more people or solo traveler?
Our vacation experts are waiting to assist you and prepare the trip as you have always dreamed.
*The Tour Prices reflect the least expensive rates during low season and are subject to change at any time. You will receive a 100% accurate price when you inquire with us. The rates listed here, are per person, include taxes, domestic transport, tours as described, unless otherwise indicated. Price does NOT include international airfare or optional travel insurance or any other services not expressly mentioned. Prices are expressed in US dollars unless indicated otherwise.