WDHOF Members are the pioneers, leaders, innovators and world record holders throughout the international diving community. These areas of diving and undersea endeavors include: the Arts, Science, Medicine, Exploration & Technology, Marine Archeology, Business, Media...
+ Read More
Subscribe to our Newsletter
About ISAM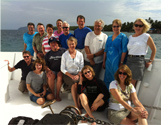 The Society offers unique opportunities to dive in exotic places and at the same time obtain knowledge and earn CME credit. Our programs include diving medicine, hyperbaric medicine, diving safety, treatment of venomous animal stings and bites, and diagnosis and treatment of decompression illness.
Our annual spring meetings are held in the Caribbean area, and it is at that meeting most of our members attend. Category 1 CME credits are offered. Several times during the year smaller groups venture to even more exclusive locales such as Fiji, the Coral Sea, Australia, as well as other dive sites in the Caribbean. On each of our smaller trips we have an instructor to provide stimulating conversations and lectures pertinent to diving. The smaller meetings offer Category 2 CME credits.
+ Read More