Star Dancer/Peter Hughes Diving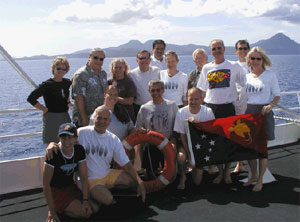 Rarely in life do people have their expectations met and exceeded. However, those feelings describe the experience of the ISAM group that chartered Peter Hughes' Star Dancer in PNG October 20-30, 2004. Itwas one of the best liveaboard experiences of all times. Where else in the world can you dive in warm, crystal clear waters with the largest to the smallest creatures in the sea and have an erupting volcano as the background for your ten-day trip on a liveaboard?
The second dive of the charter can best the describe as awimming with a whale shark under the shadow of an active volcano. We had a gift from the sea when this magnificent creature visited aur group at the beginning and end of the dive. ISAM members saw the largest fish in the seaon our first day of diving along with the smallest pygmy seahorses on our remainding dive days. The diving was prisitine and unique; a macro and wide-angle heaven of photographic underwater opportunities.
The macro subjets were tiny pygmy horses, panda clown fish, mantis shrimp, leaf scorpion fish, hairy octopus, crocodile fish, a leafy sea dragon, porcelain crabs, and countless other unusual critters. Wide-angle photo opportunities were also plentiful with lots of big flash action. ISAM divers not only swam with the whale shark but also spotted several species of sharks in the open blue water and experienced the silvery swirls of large groups of barracudas and tuna.
Gorgeous reefs provided colorful scenery of corals, sponges, and fish life. ISAM also had a thrilling dolphin encounter when the capitan of Star Dancer herded a massive pod of dolphins alongside snorkelers.
The staff of the Star DAncer treated ISAM guests like royalty. We received first-class service and excellent food. Our personal laundry was even done by the crew and they washed oue dive gear at the end of the charter. Another luxury was the wonderful shoulder massages and warm towels awaiting guests after every dive. Now that is service perhaps above and beyond that for wich Peter Hughes Diving is famous!